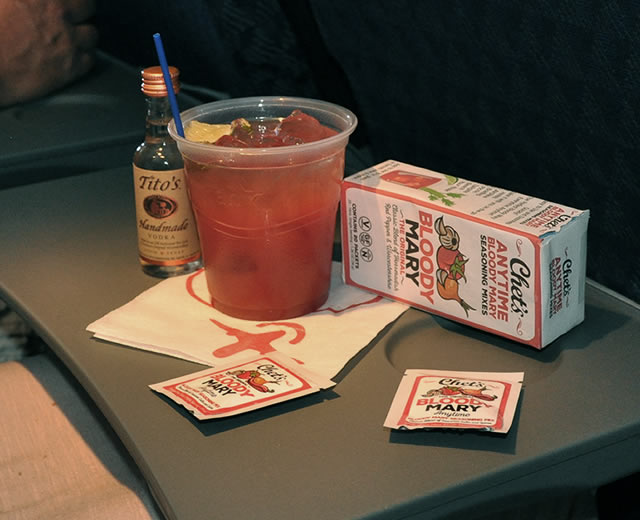 Our Travel Size Bloody Mary is the perfect way to make sure you have the best Bloody Mary no matter where you go. With Chet's Anytime Bloody Mary Seasoning Mix you can now have the best tasting Bloody Mary no matter where you are.
The reality is you can't possibly bring all the ingredients with you when you are out and about. Now when you want a Bloody Mary all you need to do is take the travel size Bloody Mary mix with you. Whether you are on a boat, ready to play golf, flying to your next destination or gearing up for the tail-gate party, grab a Travel Size Bloody Mary Seasoning Packet, a can of Tomato juice and a Vodka mini and you are all set! Bring a handful and make your own party!
At Chet's Anytime Bloody Mary Seasoning Mix, we do all the work for you. Everything you need is packed into a single serving packet ready for you to use. Simply add our Bloody Mary Seasoning Mix to tomato juice, V-8, or Clamato and your favorite vodka and you're done!
Our mix has no MSG, is Gluten-Free and has natural ingredients. We add worchestershire powder, horseradish powder, cayenne pepper, celery salt, garlic powder, paprika, black pepper, red pepper flakes, sumac & parsley flakes.
The Travel Size Bloody Mary Is The Best Tasting Bloody Mary Anytime!
Now you have the easiest way to make a great Bloody Mary no matter where you go. Either at home or on the go, on a  train, on a plane, at a bar, from afar, on a boat or with a goat, now simply take the mix with you. Wake up in a 5-star hotel or out in the wilderness, no matter where you are you will have one great tasting Bloody Mary. You will love the taste, order a box now!

It' so easy to use! Take it with you wherever you go.