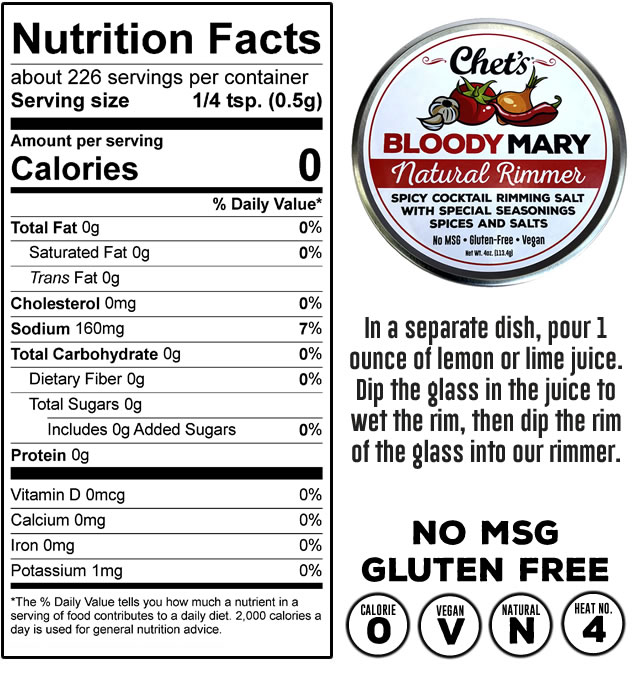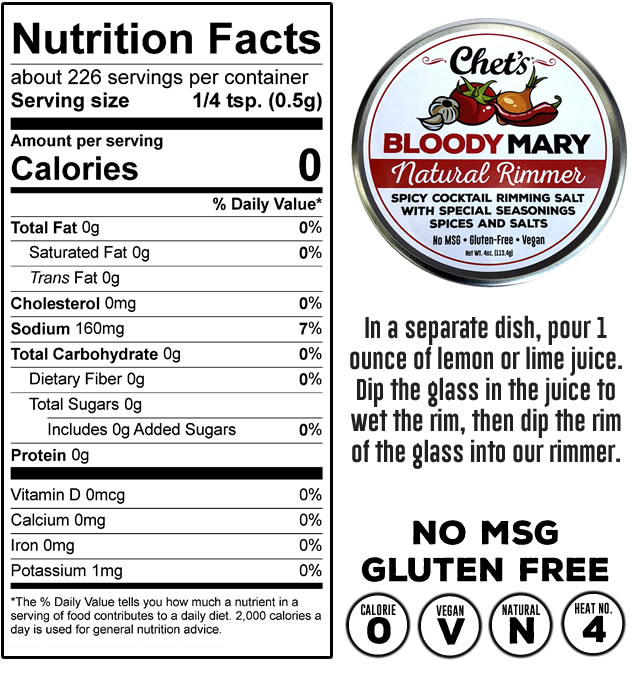 Each of Chet's Anytime Bloody Mary Natural Cocktail Rimmer uses natural ingredients, spices and salts. Natural ingredients bring out the best tasting rimmer as it is the perfect symphony of savory flavors. With each sip of your Bloody Mary, Caesar or Michelada, you will want to lick the glass over and over again. We spent months perfecting just the right blend to bring out the robust, spicy taste you would expect in a spicy cocktail rimming salt.
Our Bloody Mary Natural Cocktail Rimmer contains; Kosher Salt, Celery Salt (Salt & Spice), Worcestershire Powder (Maltodextrin, Distilled Vinegar, Molasses, Corn Syrup, Salt, Caramel Color, Garlic Powder, Sugar, Spices, Tamarind, Natural Flavor), Garlic Powder, Paprika, Sumac (Salt), Black Pepper, Red Pepper Flakes, Cayenne Pepper, Horseradish Powder and Parsley Flakes. Just the right amounts of each spice is blended perfectly to bring out a Bloody Mary seasoning mix bursting with flavor.

Maltodextrin: If you're on a gluten-free diet, you may be concerned about maltodextrin because it has "malt" in the name. Malt is made from barley, so it contains gluten. However, maltodextrin is gluten-free, even when it's made from wheat. According to the advocacy group Beyond Celiac, the processing that wheat starches undergo in the creation of maltodextrin renders it gluten-free. So if you have celiac disease or if you're on a gluten-free diet, you can still consume maltodextrin. The U.S. Food and Drug Administration (FDA) has approved maltodextrin as a safe food additive. It's also included in the nutritional value of food as part of the total carbohydrate count.
Tamarind: Tamarind is a type of tropical fruit that is used in many dishes around the world. It is used in sauces, marinades, chutneys, drinks and desserts. It's also one of the ingredients of Worcestershire sauce. Modern researchers are now studying this plant for potential medicinal uses. The polyphenols in tamarind have antioxidant and anti-inflammatory properties. These can protect against diseases such as heart disease, cancer and diabetes.
Now you can get a spicy cocktail rimmer that takes your Bloody Mary, Casear or Michelada to the next level. It does not get any better than this!
SaveSave
SaveSave
SaveSave
SaveSave
SaveSave
SaveSave