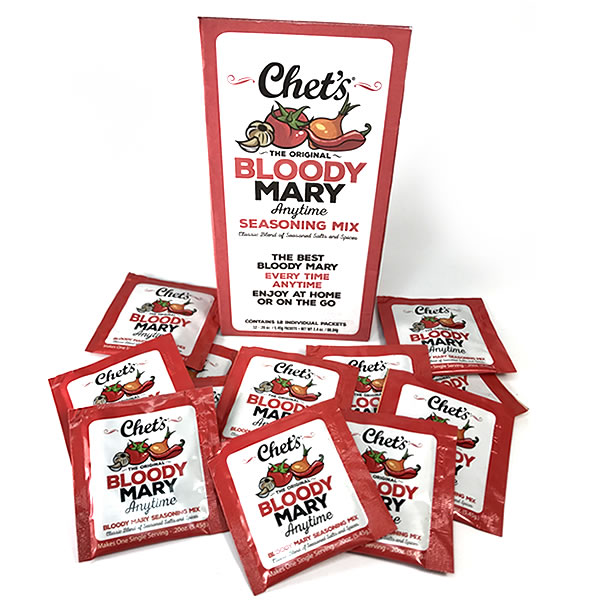 Description
Chet's Anytime Original Bloody Mary Seasoning Packets – 12 Pack
We are no longer offering free samples.
Chet's Bloody Mary Seasoning Packets are individual single servings and are perfect to enjoy at home or on the go. Looking to make 1 Bloody Mary? Great, we have the solution. We have done all the work for you by combining just the right amounts of savory and flavorful spices. Simply add 1 packet to Tomato Juice, V-8® or Clamato® Juice and your favorite Vodka.
Chet's Bloody Mary Seasoning Packets contain No MSG, Gluten-Free, Vegan, Non-Perishable, No Chemicals – Tastes Awesome!
Ingredients include: Celery Salt, Worcestershire Powder, Garlic Powder, Paprika, Sumac, Black Pepper, Red Pepper Flakes, Cayenne Pepper, Horseradish Powder and Parsley Flakes.
Simple, consistent, convenient and easy to use. Just the right amounts of spices are blended perfectly to bring out a Bloody Mary seasoning mix bursting with flavor. Use what you need, when you need it. No waste. No Mess.
Looking for a simple solution when you are traveling? Or perhaps you are going out with friends on a boat. These individual packets are a great addition and can easily become your go to travel-size Bloody Mary. Now you have a choice of your favorite tomato juice, V-8® or Clamato® Juice.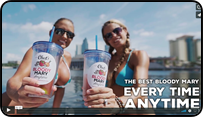 Click here to watch our boat video on using our individual serving packets.
Additional information
| | |
| --- | --- |
| Weight | 3.4 oz |
| Dimensions | 2 × 3.5 × 7 in |